Q: Can I define the times to play the background music for my flash flip book?
A: Read the following direction and you will find it's very easy to do.
The background music I have inserted into my flash flip book plays all the time. Can I define the times it plays by my own? It is not needed to play such a long time sometimes.
When you add the sound file into your flash book, you can also define the times it plays easily. Just find the "Sound Loops" bar in the "Sound" group. Click to choose it to show the definition of it below. You can see that "-1" means to play all the time while N(N>0) means to play N times. So if you want to play the music for two times, just fill "2" in the blank.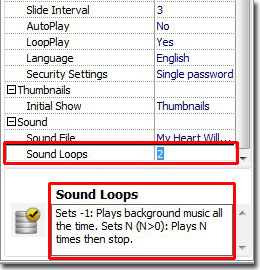 *Please be aware that you have to click "Apply Changes" to apply any changes to the flash book.
Free download PDF to FlashBook Lite
Free download PDF to FlashBook Standard
Free download PDF to FlashBook Prefessional