Q: Search characters from the flipping office file.
A: Read the following direction and you will find it's very easy to do.
I've imported Word files to flippingbooks, but it seems I can't use the search feature? The "enable search" option was checked and search button was enabled, but I can't search a word unless I input 3 search characters, why?

You can use just one keyword to search if you need. There is a "least search characters" option under the search option, the default value is "3" and change it to "1", so that you can search contents with one keyword.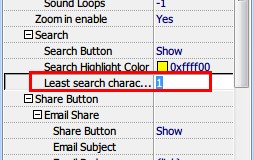 *Please be aware that you have to click "Apply Changes" to apply any changes to the flash book.
Free download Office to FlashBook Standard
Free download Office to FlashBook Prefessional