Q: How to add clip arts into the photo flash book?
A: Read the following direction and you will find it's very easy to do.
When we design a digital photo album, some clip arts are always prepared to be inserted into the flipping page. The digital maker, Photo to FlashBook Professional, allows you to add its own clip arts with ease. If you plan to design a clip art and apply it to your flash book, you should save it as PNG format and then import it into the album maker. As to the steps to realize this function, please refer to the below tips.
Step1: open the Photo to FlashBook Professional;
Step2: add image and get into the photo design window;

Step3: find a "Decoration" button in the left top and click it. Frame and Clip Art will be showed in the button;
Step4: click "Clip Art" tab and double click the clip art to add it to the photo. You can adjust its location and size by dragging with the mouse. If you need to import a new clip art, click "Browser…" and import it quickly.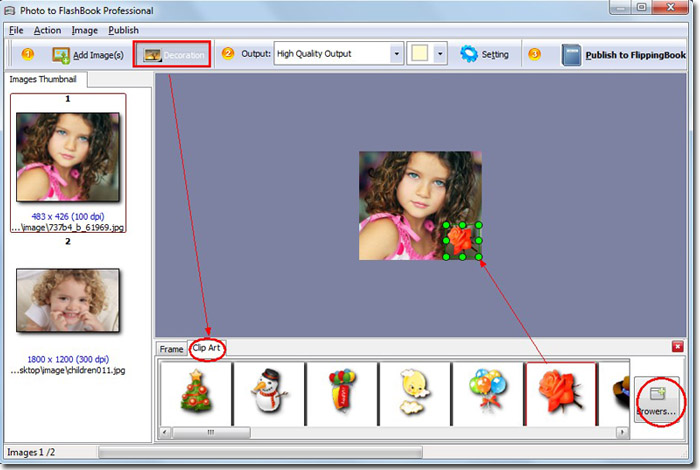 *Please be aware that you have to click "Apply Changes" to apply any changes to the flash book.
Free download PDF to FlashBook Lite
Free download PDF to FlashBook Standard
Free download PDF to FlashBook Prefessional