Q: How to sort photos automatically before converting to flash book?
A: Read the following direction and you will find it's very easy to do.
Sometimes, we need to import a large amount of photos into the Photo to FlashBook Professional to collect them into a digital photo album. We will do some design settings such as add frame and clip art, adjust the brightness, and adjust the size. And we would need to sort the images in specific order. For example, sort by create time or file size. You can find the function to realize this in the top menu.
Click "Action" -> "Sort", there are four options for you to choose from. You can sort the photo by create time, name, file size, or image size.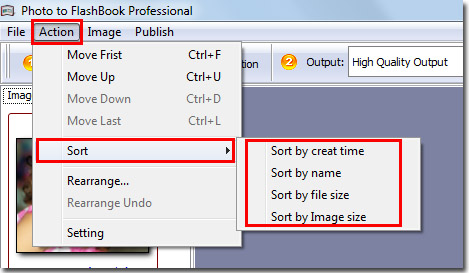 *Please be aware that you have to click "Apply Changes" to apply any changes to the flash book.
Free download PDF to FlashBook Lite
Free download PDF to FlashBook Standard
Free download PDF to FlashBook Prefessional