Q: How to undo operations when convert photo to flash book?
A: Read the following direction and you will find it's very easy to do.
Photos we take are always saved as soft copy nowadays. We need to collect them as an album sometimes. Then convert photos to flash book is a good choice. The PDF to Flash Book Professional can help you on this. There is a photo editor for you to add frame and clip art, adjust the picture size, lightness, angle, etc. You might need to undo some operations in this process. You can realize this by simply click the undo button.
Take an example that you have improved the brightness for the photo. "Modified" in red will show with the photo thumbnail. You can click the undo button to undo the operation at this time. Obviously, the undo button is not available if there is no any modification.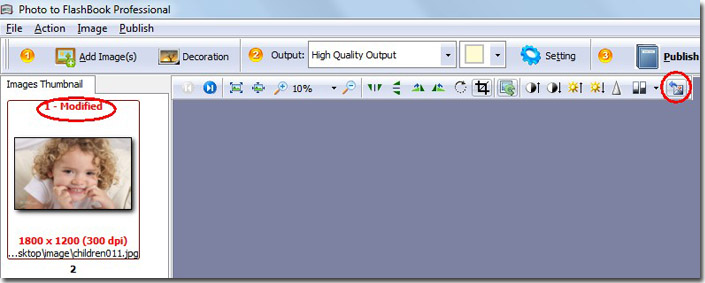 *Please be aware that you have to click "Apply Changes" to apply any changes to the flash book.
Free download PDF to FlashBook Lite
Free download PDF to FlashBook Standard
Free download PDF to FlashBook Prefessional