Q: Adjust quality of image with the photo to flash book maker.
A: Read the following direction and you will find it's very easy to do.
Nowadays, we have a higher request to quality of images as there are many devices can take beautiful pictures in high quality. We always need to guarantee the quality even if they are transfer to digital photo album because blurred images will give a bad impression. So when you design your own photo album, don't forget to choose a high quality output type.
Open the Photo to FlashBook Professional and get into the images design window. Fine the "Output:" bar in the top toolbar. Choose "High Quality Output" from the drop-down list.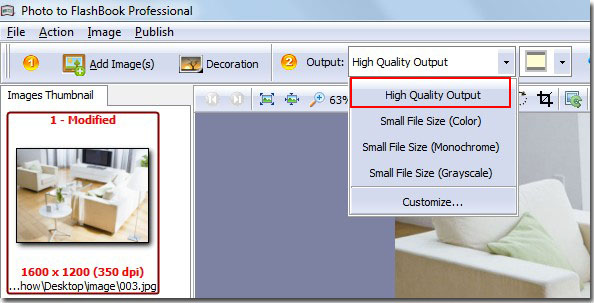 *Please be aware that you have to click "Apply Changes" to apply any changes to the flash book.
Free download PDF to FlashBook Lite
Free download PDF to FlashBook Standard
Free download PDF to FlashBook Prefessional