Q: Can I define the auto play count for my flash flip book?
A: Read the following direction and you will find it's very easy to do.
The PDF to Flash Book allows users to make the flash flip book play automatically. Some people may want to play the book all the time while some people want to play the book specific times. So we need to define the play count by ourselves.
You can find the "Play Count" bar in the "Auto Flip" group. Just fill in an Arabic numeral which stands for times the book will play. Take an example that we fill "3" in this blank, and then the flash book will play three times automatically.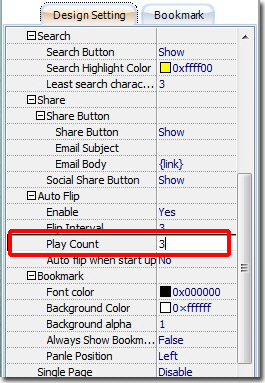 *Please be aware that you have to click "Apply Changes" to apply any changes to the flash book.
Free download PDF to FlashBook Lite
Free download PDF to FlashBook Standard
Free download PDF to FlashBook Prefessional