Q: Can I define the flash book proportions by myself?
A: Read the following direction and you will find it's very easy to do.
The flash books I import into the PDF to FlashBook maker are in different sizes. So I need to customize the proportions in different cases. And sometimes, we can contract the book to highlight the beautiful template if it is possible. Is there an easy way make it?
You can find the "Book Proportions" group in the right panel. Define the "page Width" and the "page Height" as you like. After that, don't forget to apply change to save the settings.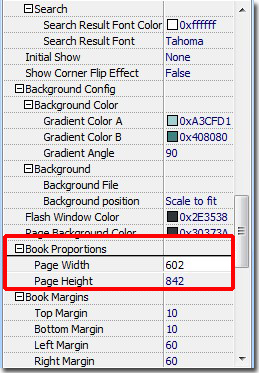 *Please be aware that you have to click "Apply Changes" to apply any changes to the flash book.
Free download PDF to FlashBook Lite
Free download PDF to FlashBook Standard
Free download PDF to FlashBook Prefessional