Q: Can I open the link that inserted into the flash book in a new blank window?
A: Read the following direction and you will find it's very easy to do.
When I am reading the flash flip book, I find that there are some links. Then I want to know more details about the book sometimes. But when I click the link it always open in the same window of the flash book. I really want to do some change to make it open in a new window. What can I do about this?
It is your right to define the links properties according to needs. Just follow the below tips to get some help.
Step1: find the "Links" group in the right design setting panel.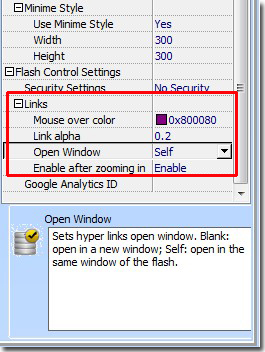 Step2: transfer "Self" to "Blank" of the "Open Window" as below.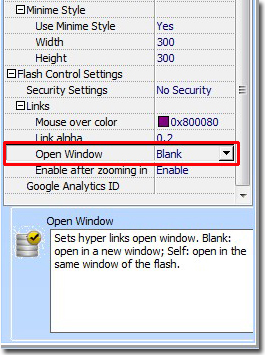 *Please be aware that you have to click "Apply Changes" to apply any changes to the flash book.
Free download PDF to FlashBook Lite
Free download PDF to FlashBook Standard
Free download PDF to FlashBook Prefessional