Q: Can I return my flash flip book to a blank theme status quickly?
A: Read the following direction and you will find it's very easy to do.
I have done some settings for my flash flip book. But I am not satisfied with it. I want to re-design it. However, whenever I re-open the PDF to Flash Book Standard, the design setting panel remains as last time I closed it. I need help on this problem.
Well, we encounter such a problem sometimes. We would like to suggest you to save the project at first. Whenever you may need to reuse it, you can import the project easily.
Now, to solve your problem, it is as easy as one mouse click.
For example, if you want to return to a Blank Classical template, you just need to double click it with the mouse in the left theme panel.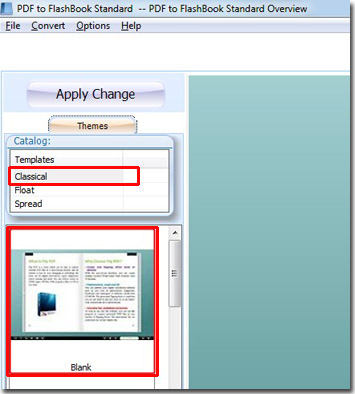 *Please be aware that you have to click "Apply Changes" to apply any changes to the flash book.
Free download PDF to FlashBook Lite
Free download PDF to FlashBook Standard
Free download PDF to FlashBook Prefessional