Q: Export watermarks for importing to other flash flip books.
A: Read the following direction and you will find it's very easy to do.
It always takes some time to design a watermark. I need to export it and save as a file for importing easily later. How to do that with the flash book creator?
It is a good job to embed watermarks into flash flip books. You can export it within several steps as below.
Step1: click "Add File"-> "Set Watermark".

Step2: check the watermark which you want to export is selected. And then click export button to save it in your computer.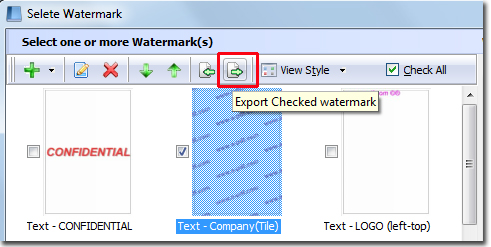 *Please be aware that you have to click "Apply Changes" to apply any changes to the flash book.
Free download PDF to FlashBook Lite
Free download PDF to FlashBook Standard
Free download PDF to FlashBook Prefessional