Q: Hide the flash flip book frame bar.
A: Read the following direction and you will find it's very easy to do.
There is a book frame bar showing beside the book pages and I want to hide it when it is not needed. As I think the flash flip book interface can be more concise without it.
There is a design setting panel in the right of the flash window. You can find the "Hide Book Frame bar" and transfer "No" to "Yes". And then apply change to see the result what you want.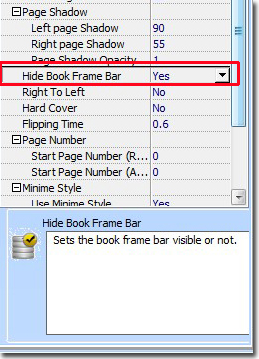 *Please be aware that you have to click "Apply Changes" to apply any changes to the flash book.
Free download PDF to FlashBook Lite
Free download PDF to FlashBook Standard
Free download PDF to FlashBook Prefessional