Q: How to burn the flash book to a CD?
A: Read the following direction and you will find it's very easy to do.
I have created an attractive flash flip book with your PDF to FlashBook Standard. And I want to save it on a CD for carry conveniently. How can I make it quickly? And what condition is required?
Obviously, to burn a CD, a CD burner and a blank CD are required. It will be OK if your computer has the disc writing function. Then it will take you just minutes to burn.
Step1: design your flash book and then click "Publish" to start to convert.
Step2: select the "Burn to CD" option and define a title for your book. If you can to play the book automatically, you should select the "Make it automatically play the flipbook in CD" option too.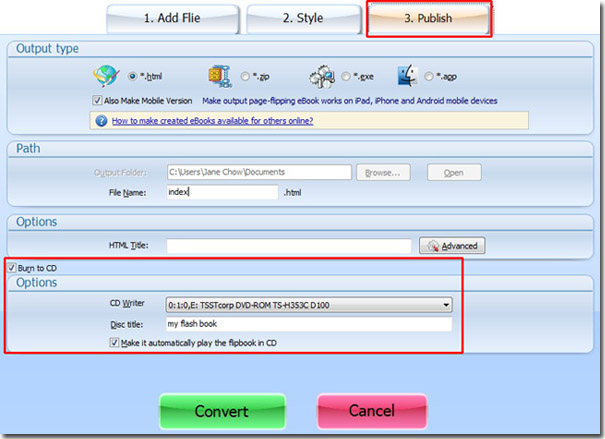 *Please be aware that you have to click "Apply Changes" to apply any changes to the flash book.
Free download PDF to FlashBook Lite
Free download PDF to FlashBook Standard
Free download PDF to FlashBook Prefessional