Q: How to make the flash book home button URL opened in another blank window?
A: Read the following direction and you will find it's very easy to do.
When the flash book is uploaded online, some readers may want to know more about the author and the company. So they need to go to the home page via the home button. I don't want to open the URL in the self window. How can I make it opened in another blank window?
When you add the home button into the toolbar, you will need to fill in a URL. And there is an "Open Window" item for you to define. To open the window in another blank window, you should choose "Blank" but not "Self".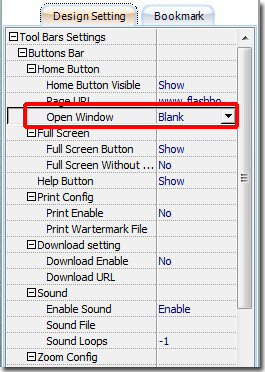 *Please be aware that you have to click "Apply Changes" to apply any changes to the flash book.
Free download PDF to FlashBook Lite
Free download PDF to FlashBook Standard
Free download PDF to FlashBook Prefessional