Q: How to use the email share function of pdf to magazine converter?
A: Read the following direction and you will find it's very easy to do.
There are two kinds share buttons in the pdf to magazine converter, PDF to FlashBook Standard. The one is "Email Share" and the other is "Social Share Button". For the "Email Share", there are three items for you to set.
Step1: transfer "Hide" to "Show" for the "Share Button" item.
Step2: fill in the "Email Subject".
Step3: Fill in the "Email Body". A link which can represent the URL/link of the flash book you create is needed.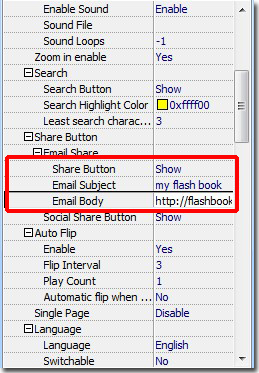 Thus, after you uploading the book online, you can click the "Share" button and go to an email window. Just fill in the receiver and share the flash book in a quick way.

*Please be aware that you have to click "Apply Changes" to apply any changes to the flash book.
Free download PDF to FlashBook Lite
Free download PDF to FlashBook Standard
Free download PDF to FlashBook Prefessional