Q: Is it possible to change the button text font for flash book?
A: Read the following direction and you will find it's very easy to do.
The default font for the button text is "Tahoma". It is not good to use this font all the time. To make a difference flash book appearance by changing the button font for readers is a good idea.
Take the Spread template as an example. You can find the "Button Font" bar in the right panel. Click the drop down button and choose a font which you want. We choose "Terminal" here.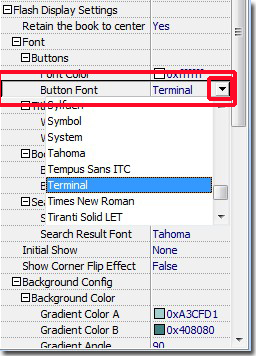 Apply change to save the setting. You can find the change of buttons in the toolbar.

*Please be aware that you have to click "Apply Changes" to apply any changes to the flash book.
Free download PDF to FlashBook Lite
Free download PDF to FlashBook Standard
Free download PDF to FlashBook Prefessional