Q: How to use the embedded themes quickly?
A: Read the following direction and you will find it's very easy to do.
There are many beautiful embedded templates in the PDF to FlashBook Standard. I want to use them for my flash flip book directly. I don't have time to search themes form the internet. And design theme will also spend me a lot of time. The embedded template is good enough.
This is such an easy question. Let me tell you how to make it.
Find the themes panel in left of the flash window. You will see three kinds: Classical, Float, and Spread.
Click to choose your favorite one, the themes will be listed below. Then you should double click on the one you would like to apply to your flash flip book.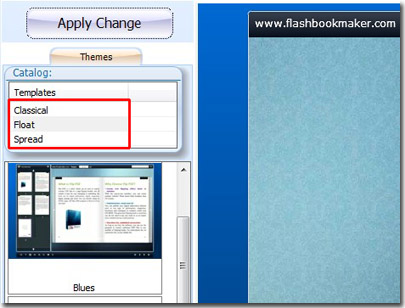 *Please be aware that you have to click "Apply Changes" to apply any changes to the flash book.
Free download PDF to FlashBook Lite
Free download PDF to FlashBook Standard
Free download PDF to FlashBook Prefessional