Q: Make the background music play and stop automatically
A: Read the following direction and you will find it's very easy to do.
My question is: I was trying to embed background music to my flipping book, but I found that I have to click the play button when I turn to the page and don't stop when leave. Is that possible to make it play and stop automatically? Because the flippingbook is not for my own, my readers may don't know there is a BGM to play.

You need to set up the sound properties before you embed sound file.

In order to make the sound file play and stop without your control, switch "play sound" and "stop sound" to the velum like below in the sound properties window. Then the background music will plays when you turn to the page and stop when leave the page automatically.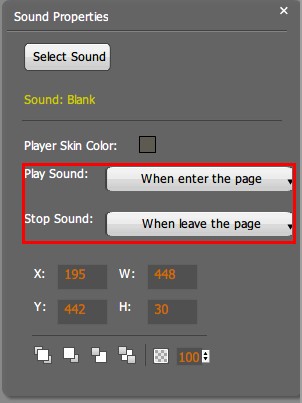 Detail of how to add sound please check here.



*Please be aware that you have to click "Apply Changes" to apply any changes to the flash book.
Free download PDF to FlashBook Standard
Free download PDF to FlashBook Prefessional